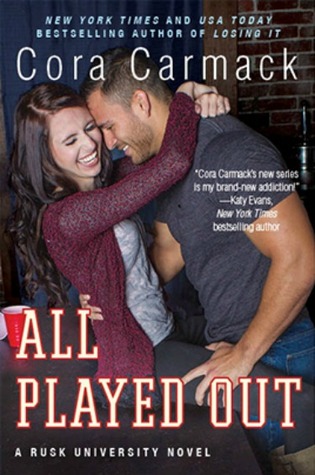 Title: All Played Out
     (Rusk University #3)
     Author: Cora Carmack
     Release Date: May 12th, 2015
First person to go to college? CHECK.
Straight A's? CHECK.
On track to graduate early? CHECK.
Social life?….. yeah, about that…..
With just a few weeks until she graduates, Antonella DeLuca's beginning to worry that maybe she hasn't had the full college experience. (Okay… Scratch that. She knows she hasn't had the full college experience). 
So Nell does what a smart, dedicated girl like herself does best. She makes a "to do" list of normal college activities.
Item #1? Hook up with a jock.
Rusk University wide receiver Mateo Torres practically wrote the playbook for normal college living. When he's not on the field, he excels at partying, girls, and more partying. As long as he keeps things light and easy, it's impossible to get hurt… again. But something about the quiet, shy, sexy-as-hell Nell gets under his skin, and when he learns about her list, he makes it his mission to help her complete it.
Torres is the definition of confident (And sexy. And wild), and he opens up a side of Nell that she's never known. But as they begin to check off each crazy, exciting, normal item, Nell finds that her frivolous list leads to something more serious than she bargained for. And while Torres is used to taking risks on the field, he has to decide is he's willing to take the chance when it's more than just a game.
Together they will have to decide if what they have is just part of the experiment or a chance at something real.
I've got lots of books, both physical and ebooks, that are waiting to be read.
All Played Out
was not one of them, but I had a craving for a bit of American New Adult set in a college and hopefully featuring football. I don't know what caused such a hard core craving for such a book, but I knew that Cora Carmack could fulfil the need!
I've read the first two books in the Rusk University series,
All Lined Up
and
All Broke Down
, and reviewed
All Broke Down
which you can
read here
. I loved both of the two previous books, because damn Cora Carmack can write some seriously good New Adult!!
All Played Out was just what I was looking for, I loved the romance that built between Nell and Torres, the football included throughout, and getting to see the characters and couples from the previous two books.
I seriously related to Nell in this book, she's shy and sticks to school rather than hitting the party scene. And to be honest that's kind of like me, I am definitely shy, and that, along with not particularly partaking in standard university activities, warmed me to Nell pretty quickly. 
All of the Rusk University novels so far involve a football player and a female student starting some form of relationship and usually encountering difficulties along the way. And it's something that I love.
Torres decides that he wants to help Nellt, and that's not a decision he makes out of the kindness of his heart, he finds Nell attractive and basically wants to be near her, and with her. I really enjoyed Torres' forthrightness and cheeky humour and personality. The two very different personalities worked well together and there was definitely chemistry which gave the steamy sections a little bit of extra something something.
I would recommend Cora Carmack's Rusk University series to anyone who's looking for a bit of New Adult reading this summer!
Have you read All Played Out? Let me know what you thought in the comments!
'All Played Out' by Cora Carmack
4 Stars