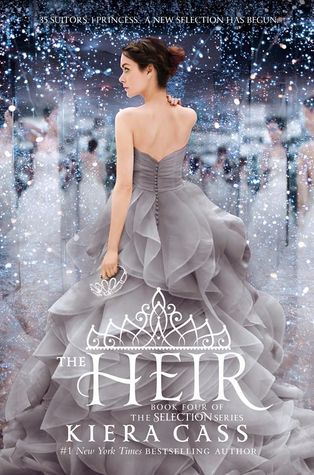 Title:
The Heir
     Author:
Kiera Cass
     Release Date:
5th May, 2015


I received this book free from the publisher in exchange for an honest review, this does not affect my opinion of the book or the content of my review in any way.
Princess Eadlyn has grown up hearing endless stories about how her mother and father met. Twenty years ago, America Singer entered the Selection and won the heart of Prince Maxon – and they lived happily ever after. Eadlyn has always found their fairy-tale story romantic, but she has no interest in trying to repeat it. If it were up to her, she'd put off marriage for as long as possible.
But a princess's life is never entirely her own, and Eadlyn can't escape her very own Selection – no matter how fervently she protests. 
Eadlyn doesn't expect her story to end in romance. But as the competition begins, one entry may just capture Eadlyn's heart, showing her all the possibilities that lie in front of her… and proving that finding her own happily ever after isn't as impossible as she's always thought.
I was a really big fan of
the Selection series
way back when, I eagerly anticipated the release of each book and fangirled with my sister while on holiday because those books just brought out the inner fangirl! I'm the first to admit that I was sceptical when I heard that Kiera Cass was writing another book in the
Selection
world, I thought
The One
finished things off really well, and the world didn't need tampering with! And then when I heard that it wouldn't even be in America or Maxon's POVs, well, I was pretty peeved. So I put off reading
The Heir
, especially when I saw reviews saying that Eadlyn isn't exactly the nicest character. I finally bit the bullet over my Christmas break because I really couldn't put it off for much longer!
To kick start this review I'm going to come right out and say that I didn't particularly like Eadlyn, she was immensely annoying and arrogant, which isn't what you want in a main character! I completely understand that she wasn't happy about being forced to undergo the Selection process and find a husband, I know that's not something that I'd want to do! I'm all about meeting, dating and marrying someone for love, because you deeply care about the other person, and not to settle political unrest in a country. But as the princess, and heir to the throne, you've got to do what is required of you, and do it with a smile. I got a definite spoilt vibe from Eadlyn, she struck me as someone who felt entitled to everything, and rude when denied something. Speaking of which, she was a full on biatch to the candidates. 
Basically Eadlyn annoyed the hell out of me, bring back America and Maxon! 
Despite how annoying I found Eadlyn, I now need to read the next book,
The Crown
. The book ended so suddenly, I honestly thought that I had another 3-4 chapters left, I kept swiping on my Kindle to turn the page before I had to finally admit that the book had ended. So even though I found Eadlyn to be an annoying character, I'm going to read
The Crown
because I need to know who she chooses, if she does in fact choose someone.
The Heir
is by no means my favourite Kiera Cass book that I've read, but at the same time it wasn't awful, it was a solid 3 stars, and hopefully
The Crown
isn't awful either! 
Have you read The Heir? Let me know what you thought in the comments!
'The Heir' by Kiera Cass
3 Stars